On Friday, May 5, MidCity attended the 26th annual Affordable Housing Summit in North Bethesda. Keynote speaker and Congressman, Elijah Cummings, gave a heartwarming speech on how his life would have been completely different had he not had a safe and affordable place to live. He emphasized the importance of those in the affordable housing industry and how what they do greatly impacts the lives in the communities they serve. 
MidCity Development also presented the Eugene F. Ford, Sr. Builder of the Year award to The Bozzuto Group. Madi Ford, Director of Legal Affairs at MidCity and granddaughter of Eugene F. Ford, Sr., presented the award to Mike Schlegel, President of Bozzuto Construction.
During the presentation of the award Madi said, "As a third-generation Ford family member working for MidCity, I can say that we are proud of our commitment to our residents and to our communities. And that's really what this Builder of the Year honor signifies." She continued, "Tom Bozzuto shares my grandfather's insistence on quality affordable housing regardless of social or economic circumstance."
We are honored to have presented the award to our friends, The Bozzuto Group, and look forward to continuing to witness their work in the affordable housing community.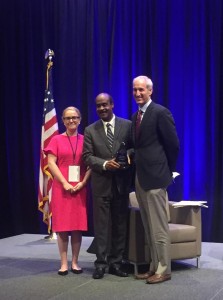 Left to right: Madi Ford, Director of Legal Affairs – MidCity, Ike Leggett, County Executive, Mike Schlegel, President – Bozzuto Construction.