Only one business remains at the Brentwood Village Shopping Center on Rhode Island Avenue. Since the end of June, the rest have been shuttered, and the parking lot has sat mostly vacant. Sunday was different. About 30 artists from across the District, Maryland and Virginia flocked to the former strip mall. Starting in late morning and working into the evening, the group of graffiti, fine art and street artists painted more than 2,000 feet of roll-down gates along the barren strip.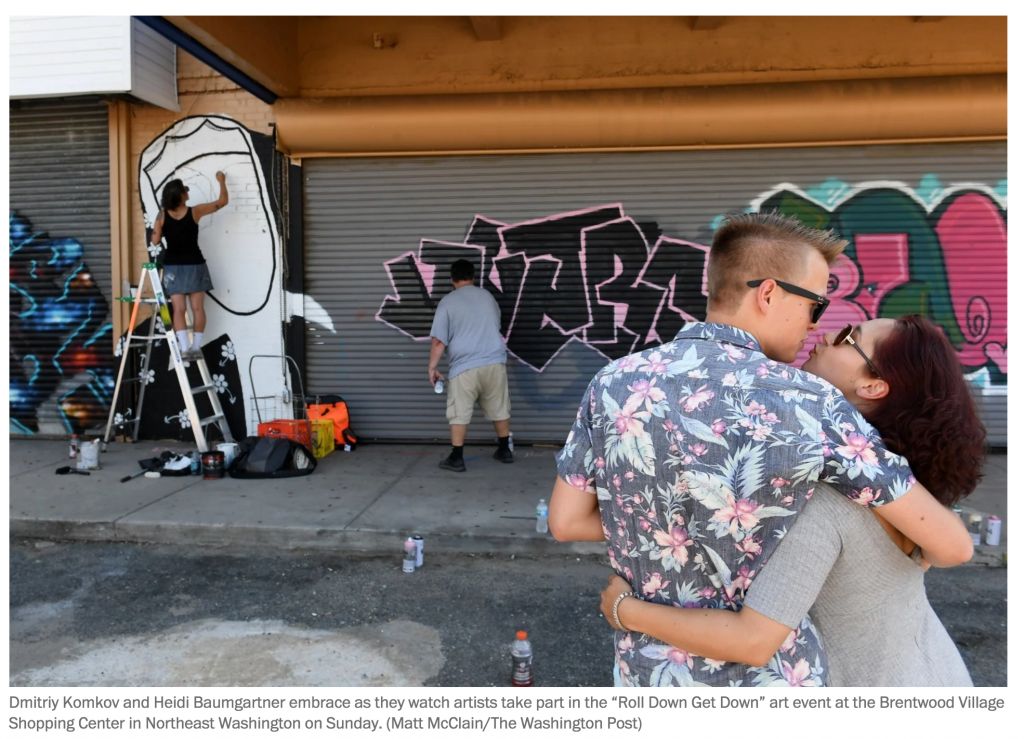 The goal, said Jordan Dyniewski, is to "beautify" and "completely transform this parking lot." Dyniewski, 31, is the director of ReCreative Spaces, a Mount Rainier, Md.-based community arts organization and a co-organizer of Sunday's paint jam called "Roll Down Get Down." The event, Dyniewski said, is "an attractive, bold and vibrant way" to make people in the neighborhood stop and think, " 'Wait a minute. This isn't a parking lot anymore.' " The artwork created Sunday will last as long as the remnants of the shopping center do — meaning not for long. In October, the site is scheduled to be demolished to make way for a new 20-acre, mixed-use development that promises to be "the future centerpiece of the Rhode Island Avenue community," as the developer behind the project touts it.
The developer, MidCity, won approval from the Zoning Commission late last year to redevelop the Brookland Manor affordable housing complex and the Brentwood Village Shopping Center. The plan is one of the city's largest private developments. When completed, the eight-block project will include 1,760 residential units, 181,000 square feet of retail space and a one-acre community green.
Once finished, it will be another neighborhood along Rhode Island Avenue in Washington's Northeast to witness major change. Housing prices in neighborhoods, such as Eckington and Woodridge, have risen in recent years, pushed up by increased demand from young professionals and families priced out of central downtown areas. Rhode Island Row, a development completed in 2012, brought in a host of new shops, restaurants and apartments. In a quickly gentrifying neighborhood, art and culture become all the more vital, said Dyniewski who regards art in public space as a means to break down barriers and create dialogue. For a neighborhood in flux, art "points the way to what has been and what will be," Dyniewski said. "The whole point is to get [the community] to come out and say to them, look, this is your space," and to encourage them to stay through the changes so "people aren't run out," he said. On a exterior brown brick wall of a dental and vision clinic — the last remaining tenant in the strip mall — Cita Sadeli was busy working on a large portrait of a woman. She used a large roller brush as she applied a white base layer of paint. To her side, the painter had a piece of paper with a pencil sketch of the planned portrait: a woman with full lips, sunglasses and braids. A strong, empowered woman, as Sadeli described her. Sadeli, a D.C. native, sees street art as "an opportunity for storytelling." "Everything great here in D.C. is great because of the foundations," of its heritage, Sadeli said. She mentioned the District's history as Chocolate City and the deep roots of its black and brown communities. "I see [those foundations] being wiped out," Sadeli said, and she believes she has a responsibility to preserve some of the communities' stories through art. Nearby, Juan Pineda was busy spraypainting his moniker on a roll-down gate. Using a color mix of oasis and navy blue, neon green, fluorescent orange and hot pink, he sprayed "CRI" in giant letters, weaving in elements of Mayan hieroglyphs. Pineda, 40, is a Washington-based visual and graphic artist. He said he thinks graffiti and street art have the potential to create jobs. What if a grocery store, the lobby of an apartment building or even the offices of a law firm wanted some urban art in their spaces, he asks? Pineda sees opportunities for artists to have work commissioned as Brentwood is redeveloped as a new neighborhood. For the artists, the fleeting nature of their work here is part and parcel of their craft. "Everybody here knows that their work will not last," said Max Gibbons, 25, a development associate at Words Beats & Life, a co-organizer of the event and a nonprofit group promoting hip-hop and art education in the city. "Everything is temporal, nothing is permanent," said Charlotte Ager, 30, a paintbrush canvas artist who works by day as a family planning program manager for the Baltimore city government. She was working on a colorful image of a blossoming flower. "Even if we create a moment of temporal beauty and bring the community out here" to show them the power of art, that is what matters, she said. The art on these rolldown gates may be ephemeral, but the goal is to create a long-lasting impact, said Emily Arden Eakland, founder of ReCreative Spaces. After the shopping mall's demolition, the area will sit flattened for three years — and Re­Creative Spaces will continue hosting public art events there. The hope is that "the momentum we build here will be long term," Eakland said.